A more prudent and financially responsible person would probably not take a trip across the country when unemployed. I, however, have never been known to be prudent.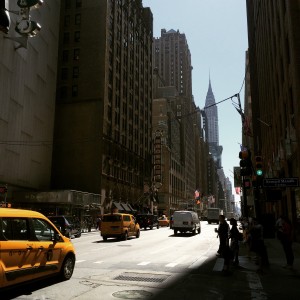 As the saying goes, you either have time or money–rarely do the two come together.
One of my dearest friends had been living in the city for more than a year, and I had always wanted to come visit her in my favorite city–but I could never get away from work. When that problem disappeared, I decided to make it happen, fiscal responsibility be damned.
Get Outta Town
I've traveled alone for business many times, but it's been a good long ten years (at least!) since I traveled somewhere by myself just for fun. My husband is my steady travel partner, and we've had many great adventures together. But this was a whole new animal.
And it was kind of freeing. Cheesy chick flick with a side of chardonnay on the plane? Check. Headphones with awesome music on all the time? Totally. Kind of loving this.
And because the friend I was visiting is, you know, working, I had the chance to do a lot of solo adventuring in the city. And yes, I did get lost. More than once. But it was an incredible week that I will always, always remember.
Eats, Arts and More
From the fluffy pancakes on my first day to the spectacular dinner at Bobby Flay's Gato and the delicate savory crepes at the Chelsea Market, New York never disappoints. I could eat my way through the city, and I probably did.
One of the main focuses for my trip was to go to as many museums as I possibly could–so I went to one each day. I trekked through the winding architecture of the Met (always my favorite), walked the Highline to the new Whitney in the Meatpacking District, and hit up MOMA.
My visit was bookended by visits with my muse, Frida Kahlo. I was lucky enough to see one of the last days of a Frida photo portrait exhibit at the Throckmorton Fine Art Gallery on my first day in the city. And on my last day, we made it out to the NY Botanical Garden in the Bronx and saw a truly inspiring exhibit that recreated Frida's gardens at her Blue House in Mexico.
Material Girl
You can't go to the city and not shop, right? So I did more looking than buying, it's true, but that's half the fun anyway.
I heard that Chelsea Market was like San Francisco's Ferry Building, with tons of crafters, gourmet food vendors and shops to peruse. It was fantastic! I wandered around and had some great chats with some of the makers there, and was just in awe of all the creativity housed in an old Nabisco factory building. Beyond cool.
The one item I did purchase repeatedly: museum postcards of my favorite works of art from each place. I love to plaster them up around my desk/creative space, or drag them out when I'm getting ready to paint and feeling low on inspiration.
But finally, I actually did see the real Material Girl. We got to see Madonna at Madison Square Garden, and it was an awesome show. Amy Schumer opened (killed it), and I was super geeked out because I could see Andy Cohen from my seat. A once in a lifetime concert, no doubt.
Getting Inspired
The best parts of this trip were when I got to do a little introspection and creative work on my own. I took my sketchbook into Central Park and painted and read. I wandered through the Upper East Side and admired the super rich pups and their walkers. I had a glass of perfectly chilled rosé at the rooftop café at the Whitney, and listened to the conversations of art aficionados around me. I diligently people-watched on the subway and observed ALL kinds of city dwellers in their element. Oh, the conversations you overhear on the subway…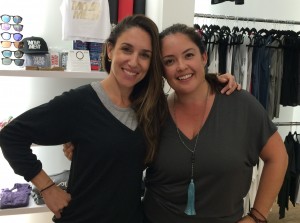 Most memorably, I got to meet one of my teachers and mentors, Erin Stutland. I'd been taking her classes online and noticed that she teaches live in NYC. Before I booked my hotel, my plane fare, or my tickets to see Madonna, I booked that class so I could meet her and take her class in person.
Erin teaches Shrink Session, a workout for both body and soul. With a mix of positive mantras and pulse-pounding cardio, she gets you to sweat and sync up your spirit at the same time. Check it out–she'll send you a free workout!
Meeting Erin in person was everything I hoped for and more; she is so down-to-earth and authentic. And the energy in that classroom–amazing! It was absolutely the highlight of my trip.
Get Out There
So my advice: go. Travel. Drink it in, live it up. I once heard that spending money on travel and special experiences is always a greater value than spending it on stuff. You don't need more stuff, do you? But memories of great adventures–you can never have too many of those.